FOR IMMEDIATE RELEASE: 2021-10-23
Unexpected groups join Climate Emergency Campaign ahead of BC government announcement
Joint climate emergency campaign swells to 240+ organizations and businesses ahead of Monday announcement
Unceded xʷməθkʷəy̓əm, Sḵwx̱wú7mesh and səlilwətaɬ territories (VANCOUVER, BC) — As the provincial government prepares to release an update to its climate plan CleanBC as soon as Monday, dozens of groups are adding their names to an open letter. It calls on Premier John Horgan and his cabinet to meet the climate emergency with 10 actions.
Since the open letter was drafted in September, the total number of organizations to sign on has risen to more than 240, with more joining every week, coming under the banner of the BC Climate Emergency Campaign. [Regularly updated list here]. Signatories are increasingly diverse, coming from beyond the traditional environmental and climate movement.
The BC Young New Democrats, representing the youth wing of Premier Horgan's own party, recently added their name. Khalid Boudreau, Policy Director for the BC YND says, "We're New Democrats. We value fairness. We value justice. We value evidence-based decision-making. This is a once in a generation chance to make bold, sweeping changes to meet an escalating crisis, and we're letting it go."
Groups and individuals among the signatories have pointed out the inadequacy of the existing CleanBC plan and fear the government's upcoming update will fail to meet the climate emergency.
Heat dome deaths are top of mind for many signatories, including the Canadian Senior Cohousing Society. "Seniors are amongst the most vulnerable members of our society, often isolated and living on fixed incomes which inhibits their ability to adapt to climate emergencies," says Andrew Moore, its president. "This was starkly demonstrated this last summer when the 'heat dome' literally killed hundreds of our elders right here in BC."
Thom Armstrong, president the Co-operative Housing Federation of BC, points out, "Non-profit co-op housing is generally older and not designed for zero emissions or extreme weather events like the 2021 heat dome. Residents are at risk since the buildings rarely have cooling or adaptations for climate change. CHF BC supports bold action to tackle the climate emergency, action which includes the transition to a greener economy and safer, equitable housing."
Small businesses are a growing category of sign-ons, including Earnest Ice Cream in Vancouver, Free Flow Plumbing Inc. in Squamish, and Mobius Books in Port Alberni.
Persephone Brewing Company CEO Brian Smith says, "The climate emergency is already having a deeply concerning and very real impact on farms, farmers and communities. As a brewery, regenerative farm, and community hub we are calling on the province to provide leadership with a new climate plan. Communities and companies like ours are doing some of the heavy lifting already and with the leadership and support of the provincial government we'll be able to do that much more."
Unions, labour organizations, and workers advocacy groups have also signed on. Anna Gerrard from the Worker Solidarity Network says, "The impacts of climate breakdown are inarguably disproportionate for those who are already shouldering the burden of discrimination, precarious income and housing, and the impacts of COVID-19. This must inform the actions that we take to ensure a safe and equitable future; one that isn't led by the heavy hand of violent and short-sighted GHG-intensive industries. Workers in BC deserve realistic and economically supported opportunities to demonstrate their capacities for innovation, if only the political will can meet them halfway."
Many faith groups who have already internally reached consensus to focus on climate are joining this political push. Bishop John Stephens from the Anglican Diocese of New Westminster says that in signing the open letter, "We joined with other voices in British Columbia to put pressure on our government to bring forward real change that speaks to the emergency at hand."
Indigenous land defense group Gidimt'en Checkpoint signed on, joining all three organizations of the First Nations Leadership Council: the Union of BC Indian Chiefs, the BC Assembly of First Nations, and the First Nations Summit. The FNLC last week released its own letter calling for an overhaul of CleanBC and warning that, "based on what we know," the update may fall short.
Momentum on the Climate Emergency Campaign continues to grow as organizations and businesses add their names to the open letter, and shows no signs of slowing down.
Douglas Students' Union president, Jed Palad says, "I am currently reaching out to other student unions and it is my belief they will sign on to the letter too. This generation of students is familiar with climate change and its impacts. As students, we are mostly young adults who will have to live with the consequences of the climate emergency and the world's response to it. We want our provincial government to take more drastic action."
-- 30 --
For media inquiries, please contact:
Khalid Boudreau, BC Young New Democrats, 778 863 5723
Andrew Moore, Canadian Senior Cohousing Society, 250 642 7966
Brian Smith, Persephone Brewing Company, 604 928 8931
Anna Gerrard, Worker Solidarity Network, comms@workersolidarity.ca
Jed Palad, Douglas Students' Union, 778 814 2508
**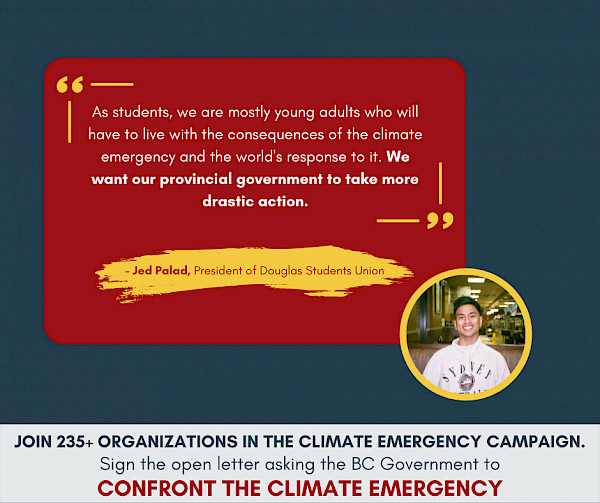 Credit: BC Climate Emergency Campaign